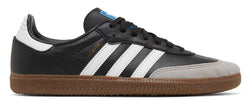 Adidas Samba Vegan Black Gum
Note: Please read the Pre-order Guidelines before making a purchase. 
H01878
The adidas Samba Vegan Black Gum is part of adidas' vegan collection. adidas is going through its collection of enduring sneakers and updating them with vegan components.
​​
​The Samba Vegan in black shuns conventional leather construction in favor of a novel design that forgoes all animal-based components, including adhesives and dyes. This sneaker uses a vegan leather with a unique light top and a gum rubber bottom. On its sides, you'll find adidas stripes. It also features the adidas logo imprinted on the tongue. Near the stripes on the sides and near to the collar is the Samba branding.