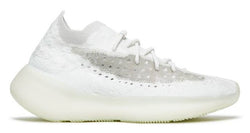 Adidas Yeezy Boost 380 Calcite Glow
GZ8668
Yeezy added a new colorway to their expanding 380 line with the Yeezy 380 Calcite Glow. While 380 releases following the Alien colorway are known for their brown, earth-toned look, the Calcite returned to the design's roots with a ghostly vibe just in time for Halloween.

The Yeezy 380 Calcite Glow is reminiscent of the very first Yeezy 380 release, the Yeezy 380 Alien. Similar to the Alien, the Calcite Glow features a white and grey perforated Primeknit upper. The main difference between the two colorways is that the Calcite Glow primarily features white throughout, with grey detailing. Also, the Calcite comes with a translucent, glow-in-the-dark sole that is guaranteed to add some extra glow to your feet.

The Yeezy 380 Calcite Glow released in October of 2020 and retailed for $250.