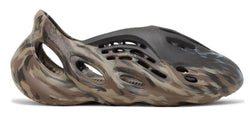 Adidas Yeezy Foam RNR MX Cinder
Note: Please read the Pre-order Guidelines before making a purchase. 
ID4126
The adidas Yeezy Foam RNNR MX Cinder is where high fashion meets innovative comfort. Wrapped in a MX Cinder colorway, this pair offers a unique combination of dark, earthy hues, giving it a versatile appeal that's equal parts streetwear-ready and avant-garde.

Constructed with a unique foam compound, the Yeezy Foam RNNR conforms to your foot for unparalleled comfort, while its distinctive, porous design gives off an out-of-this-world vibe. This sneaker pushes the boundaries of traditional footwear aesthetics and function, making it a must-have for trendsetters.With a fashion-forward design, the adidas Yeezy Foam RNNR MX Cinder not only elevates your style but promises ultimate comfort in every step. Take your sneaker game into the future.