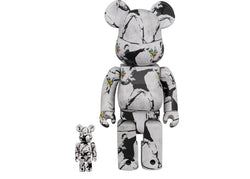 Bearbrick Flower Bomber 100% & 400%
The Bearbrick Flower Bomber 100% & 400% set is a collaboration between the toy manufacturer Medicom and the international artist collective Brandalism. The set features two Bearbricks with the famous Flower Bomber piece by Banksy printed all over them. The Flower Bomber first appeared on the wall of a garage in Jerusalem. In the piece, Banksy shows a man in a scarf and backwards baseball cap posed to throw a bouquet of flowers like a grenade. The man is shown in black and white, while the flowers and stems protruding from the wrapper are done in color. The portrait is reminiscent of the street and campus protests that took place in the 1960s during the Vietnam War. The man is said to be bombing the establishment with the flowers.
The Bearbrick Flower Bomber 100% and 400% set stands 2.75 inches tall and 11 inches tall respectively. The set sold for a retail price of $110 USD.