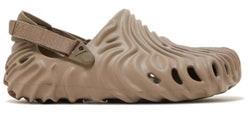 Crocs Pollex Clog by Salehe Bembury Menemsha
Note: Please read the Pre-order Guidelines before making a purchase. 
207393-195
The Crocs Pollex Clog Salehe Bembury Menemsha is composed of beige, fingerprint-like concave ridges, allowing for multi-directional traction. Holes located just above the base serve a purpose: they are located on high-heat areas of the foot for increased breathability. A removable canvas strap at the ankle provides wearers with options for customization.