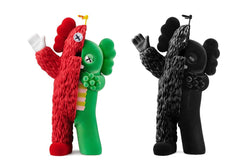 KAWS KACHAMUKKU Vinyl Figure Green/Red & Black Set
KAWS teamed up with Hirake! Ponkikki's Gachapin and Mukku for the release of his Kachamukku figures. KAWS KACHAMUKKU figures released in a green and red colorway to match the colors of Gachapin the green Dinosaur and Mukku fury red Yeti, and also released in an all black colorway. The figures were originally released at the KAWS Tokyo First exhibit at the Mori Arts Center Gallery and later released on his website.

The KAWS KACHAMUKKU Figure Set released on October 9th, 2021 in Japan with a retail price of $640. It later released on KAWSONE on April 5th 2022.
12.6 X 8 X 6 IN / 32 X 20.3 X 15.2 CM EACH