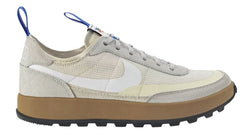 NikeCraft General Purpose Shoe Tom Sachs
 Note: Please read the Pre-order Guidelines before making a purchase. 
DA6672-200
After a brief hiatus following the renowned Mars Yard series, Nike and Tom Sachs joined forces once again in 2022 for the NikeCraft General Purpose Shoe.

The NikeCraft General Purpose Shoe (GPS) is a minimalist, do-everything shoe that will thrive in any possible scenario thrown your way. In a clean styling, the GPS boasts a three-piece molded cup sole, suede mudguards, microfiber collar, and an ultra-breathable knit that is open enough to breathe but tight enough to fend off rain and snow. Touching on Sachs' previous designs, a waffle tread outsole similar to that of the first Nike Moon Shoe and a tongue with exposed foam edges adds a vintage appeal.

The NikeCraft General Purpose Shoe released in June of 2022 and retailed for $110.