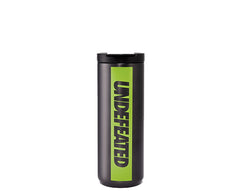 Starbucks x Undefeated 16oz Stainless Steel Tumbler
Starbucks is teaming up with one of the most exclusive names in streetwear, Undefeated, for its next limited-edition merchandise collection.
The Starbucks® X Undefeated merchandise collection draws inspiration from sportswear and sneaker culture with bold neon colors, featuring ultra-modern artistic designs in neon Starbucks green against a classic black background. Designed to celebrate creativity and the indomitable power of the human spirit, the Starbucks® X Undefeated designer collaboration offers customers more ways to share their passion for doing what they love, expressing their personal style, and reminding themselves to never give up.