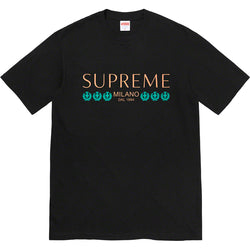 SS21
This Supreme Milano T-shirt was released in June of 2021 as a part of Spring/Summer 2021's Summer Tees delivery.

The T-shirt features a large Supreme Logo above the word Milano and the year that the brand was founded. This t-shirt was released alongside six other t-shirts including a KAWS Chalk Logo T-shirt and an Augustus Pablo T-shirt.

The Supreme Milano T-shirt in black was made available at the retail price of $38 on June 24th, 2021.